Thrill seekers this is for you!
Three out of this world challenges, who will emerge victorious?
Grab your mates and immerse yourselves in an out of this world battle. Choose your thrill on the out of this world XD Dark ride then the challenge continues as we transport you to another realm in our Hologate virtual reality experience. Still want more? The final battle lies in the laser tag arena where you have one mission to become the Game Changer champion!
Book Now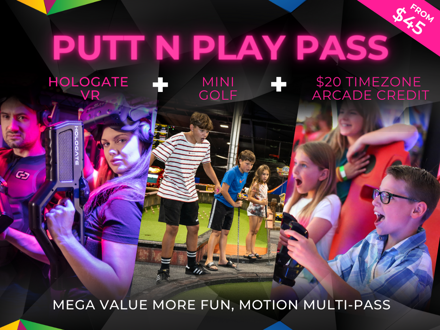 Experience a bit of everything with a Putt n Play multi-pass!
Blast your enemies, adventure around the putting green and battle the arcade
Immersive yourself in a virtual challenge, get back on the grass in Lumberjax Mini Golf and finish in our huge variety of Timezone games!
Book Now
Flip into a mind blowing world
This pass will make your heart beat faster!
A real life laser tag combat mission followed by a virtual reality experience like no other and then flip back into the real world at Xtreme Air!
Book Now