Doesn't it feel like kids have more days on holiday than they do at school?
I am an absolute fan of education. It expands the mind, inspires confidence and creativity, leads our tamariki to new adventures within themselves and with the people they meet along the way. 
It also takes care of them Monday to Friday, allowing 'adulting' to be so much more achievable.
So when I finally read the school newsletter my fears are confirmed, yes there it is again in black and white: "Please ensure your children are picked up from school by 3pm on Thursday as this is the last day of term".
Thursday? Oh of course Friday is a public holiday, didn't remember that either, how convenient, I mean oh yes that's excellent a long weekend! (Which will then morph into the longest weekend of all time...)
Panic planning mode ensues as I decide what we will do with our children for 14 days in a row. Phone calls are made to Nana, the Aunties, the Uncle's, school holiday programs and friends to see how we can slice and dice this two weeks into adequate fun and quality time whilst still juggling work.
I have got through the panic phase, realizing there are several great options for my kids to enjoy, be safe and have fun on their holiday in the beautiful Rotorua.
As much as I support learning and education, I passionately support being a kid when you are a kid! Actually I support being a kid for as long as possible. Having fun is what keeps us balanced. Having fun keeps our creative minds ticking over. It keeps our mental health in check. It keeps us grounded. It keeps us connected with our innocence. It takes us away from 'adulting' and sets us free.
Fun will be achieved these school holidays! Here's my whanau School Holiday Survival Guide:
Activities with Nana
Reading Cinemas is always an absolute treat and a go to option for Nana. A couple of hours for the kids to be entertainment and contained in one area and there is always a family movie option available in school holidays. This time its a choice between Dumbledore, Sonic or The Bad Guys. Perfect.
Everyone must put on appropriate shoes, have three layers of clothing and a hat and then its time to tear around at the Lakefront Playground. The new playground is awesome! There are some tricky obstacles, fast slides, new friends to meet and swings. Kids always love the swings. Plenty of water fountains, public toilets and also a coffee cart. All bases covered but do remember the sunhat as there isn't much shade.

Let's get our hands dirty! Most kids love dirt. They love to see how things evolve and to be part of creating something. Planting the vege garden is a great way of spending time and continuing to expand their minds. Nana's are the best for this, they know all the tricks to keep away slugs and snails and they let you do all the watering and often reward you with an ice block when all the hard mahi is done.
Activities with the babysitter
If your babysitter can drive its absolutely worth the adventure to The Redwoods. Make a checklist of all the things they need to find before you leave home, there is so much to be seen in amongst the trees! Find something the colour yellow, blue and silver. Find bear footprints and a rabbit hole. Find three wallaby traps, (then prepare yourself for lots of questions about wallabies being in New Zealand and why do we trap them). Find the fairy grotto and the sculptures that hang up in the trees. Find something to bring home for Mum or Dad.
Playdough. Kids love playdough, even older kids can get into making sculptures and creations. The great thing about kids playing with playdough while the babysitter is on watch is that you wont see the mess. Meaning you wont feel the anxiety about your carpet and they will magic that mess away before you get home. I have a yoghurt container of playdough in my fridge that I made with my kids 3 years ago. Yes 3 years ago! It's still good as dough, the trick is to keep it sealed and in the fridge. Here is how we made it, my Mum's trusty recipe:

Another great option that produces results without us dealing with the mess is baking! Kids will dutifully wait their turn to crack an egg into a bowl, following all instructions from the admired babysitter, which is much different to the yolk I find in my eyeball and on the curtain during Sunday morning pancake making with my tribe. Remember that banana bread recipe you have from lockdown? Get it out! As I guarantee you will have some ripe bananas in your whare and then you will have something to accompany your cup of tea that evening.
Activities for all of us when we aren't at work (saving the best for last)
Yes here's the real good stuff! Bring on Rotorua's finest for all of us 'kids' to enjoy!
Yes I work at Motion Entertainment but it's not that often that we all get to enjoy it as whanau time. When I can clock off and be present with the kids and we can just immerse ourselves in the Motion magic. My youngest is 4 years old so the Putt n Jump Motion Multi-Pass is something we will all enjoy together.
A round of Lumberjax Mini Golf is actually my little boys favourite. Boys just love hitting things with sticks. This is made so much more exciting by all the obstacles and secret tunnels. The more putt's he takes to get the ball in the hole the happier he seems.
Then to Xtreme Air Trampoline Park where we really all turn into kids. Play the role reversal and make your kids watch every single trick and move you have. Some exciting but also safe moves that wont strain your hamstring are; the knee drop, the belly flop, the 'look how high I am' jump, the star jump and my personal favourite; the heel flicker. If you want to know what that bad boy looks like, come jump on Easter Sunday and you may just catch a glimpse of heel flicking brilliance. My little boy will also enjoy cruising in style in his very own mini car.
I'm absolutely getting a slushy, a coffee and a burger from Motion Cafe to refuel before we finish at Timezone where I plan on taking home a cute plush toy. In fact I may not leave until this goal has been conquered. Oh wow I really have regressed into my childhood.
Seriously though there are hours of fun to be had whether you have tiny tots or teenagers. Choose one attraction or choose a Multi-Pass if you want more fun for mega value, the adventure is up to you.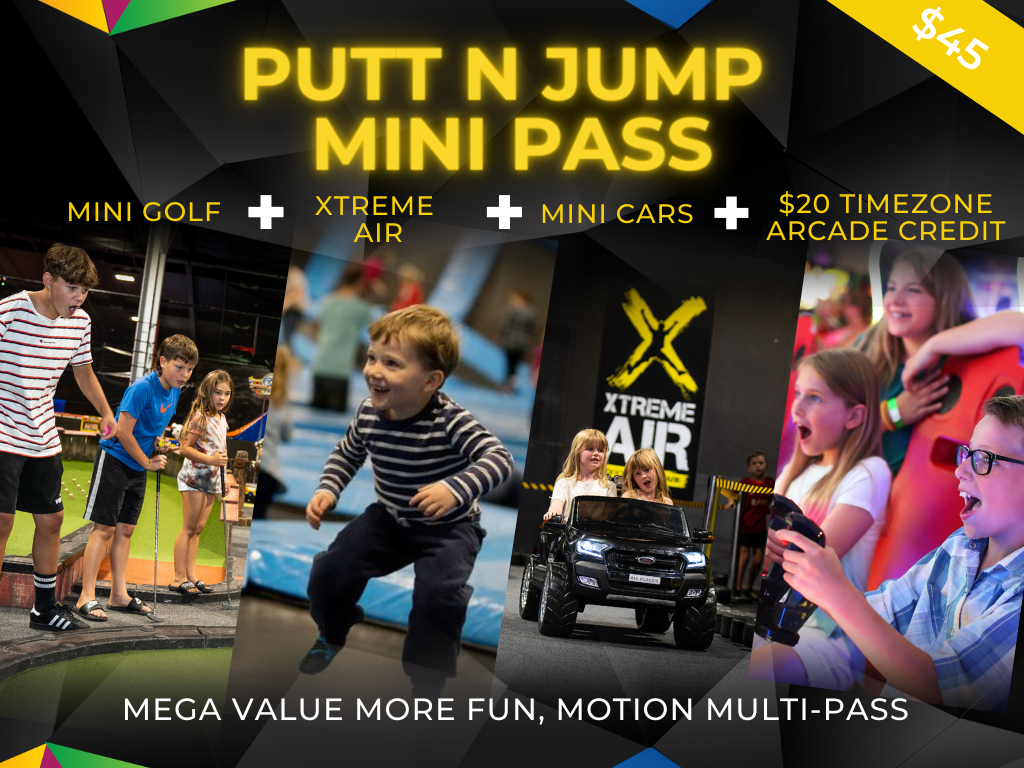 So there you have it.
What goes without saying is the 32 loads of laundry, hours of television (yes it will happen), hours of colouring and book reading, endless dishes, 4 applications of plasters and ice packs and maybe a bottle of red.
Also up my sleeve are a raft of fantastic activity options, check them all out here.
Do you think we will survive?
Narelle Brown
Motion Entertainment Marketing